Hi Everyone!
We busy moms all know how hard it can be to take care of ourselves while we're also giving it all to our families! As a working mom, I've been there, and all the juggling takes a lot of creativity, especially during the summer months when they're not in school!
I loved my time as a sports mom with my girls.  As they got older lacrosse became their sport. Both my daughters played lacrosse on club teams and eventually earned scholarships to college.  So you can imagine, I spent a lot of time at the field over the years and any of you who've had a child athlete know what I'm talking about!  During their practices I would get in a quick workout by jogging, or walking around the field or working out using a park bench.
Calling all "soccer moms!"  Here are five of my favorite park workout moves for you to try:
Hang from the Monkey Bars contract the abs and using your abdominals lift your knees toward your chest, and then lower them back down again straight. This is an incredibly effective abdominal workout—do this one for a nice firm tummy—especially the lower abs. Try not to let yourself swing too much, keep your abs tight and your back straight. Your core is the stabilizing force for all physical activity so you want to keep it strong and this is a great one for building up those muscles! Try and do 10 of these.
• Step Up Slimmer
Find a low bench or curb or staircase nearby and step into action! Step up and down, pumping your arms and getting your heart rate up. You'll be getting in some good cardio while you also tone your legs and buttocks. Start with your right leg and then go on to your left—alternate legs and give it all you've got for a good 5-10 minutes.
• Tricep Dips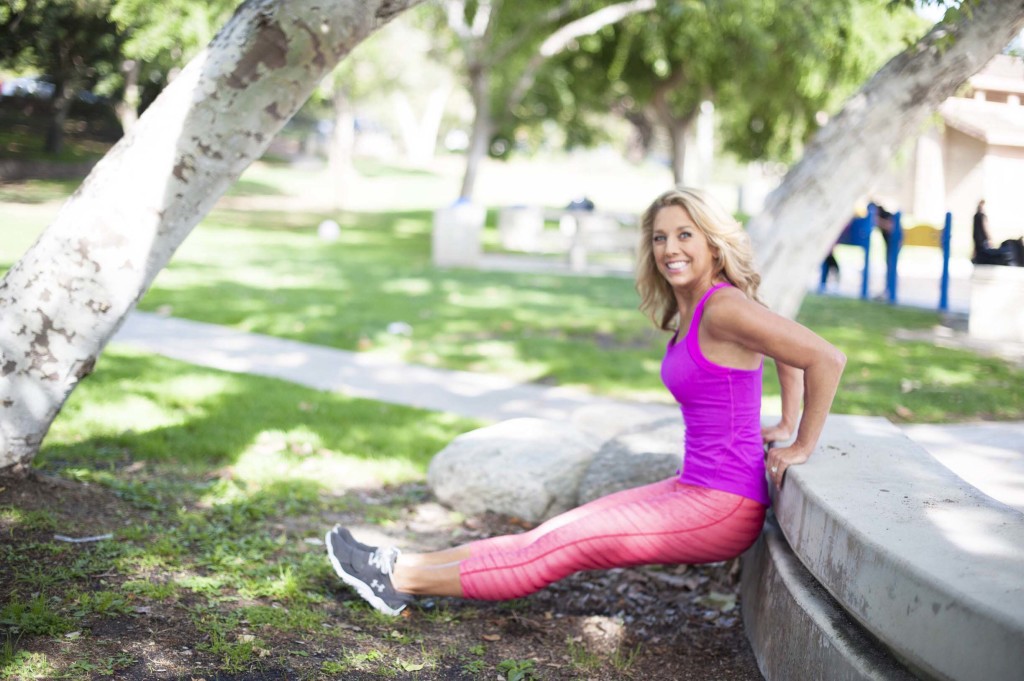 Avoid under arm sag with this move! Using the weight of your body as resistance, gently lower your hips into a dip, now straighten your arms using your upper body strength. Feel it in your triceps. This is a great move to give you sexy, sculpted shoulders and sleek, shapely triceps. Pull your abs up and in, keep your back straight and try 15 of these for sexy arms, back and shoulders!
• High Plank Booty Lifter
There's always a nearby park bench. Instead of sitting on it, use it as a workout bench! I like to do this High Plank Booty Lifter! In the high plank pose you'll lift and lower your leg up and down while you squeeze the buttocks. This is a great move for toning the tushie and trimming the back of those thighs! No more cellulite! Keep those abs engaged and try and do 15-20 reps on each leg.
• Push up
Using that same park bench or curb, find a good spot where you can do some pushups. Pushups are still the best total body exercise for strengthening your whole core and your chest. When you're up on a bench like I am in this picture, you'll do a full pushup from your toes. Slowly lower your body keeping yourself as straight as a board from the top of your head to your toes. This is great for your core, your arms, your back and your chest. Do your best to relax the neck go for it! Can you give me 10?
It's so important to take care of YOURSELF, too, so that you can be the best mom you can possibly be. And by staying healthy and making yourself a priority, you're also teaching great healthy habits to your kids. Why not try this today?!
For more workout tips, sign up for my Free Newsletter! Here's how: http://www.deniseaustin.com/newsletter-signup/
Have fun, everyone!
Love always from your personal trainer,
Denise