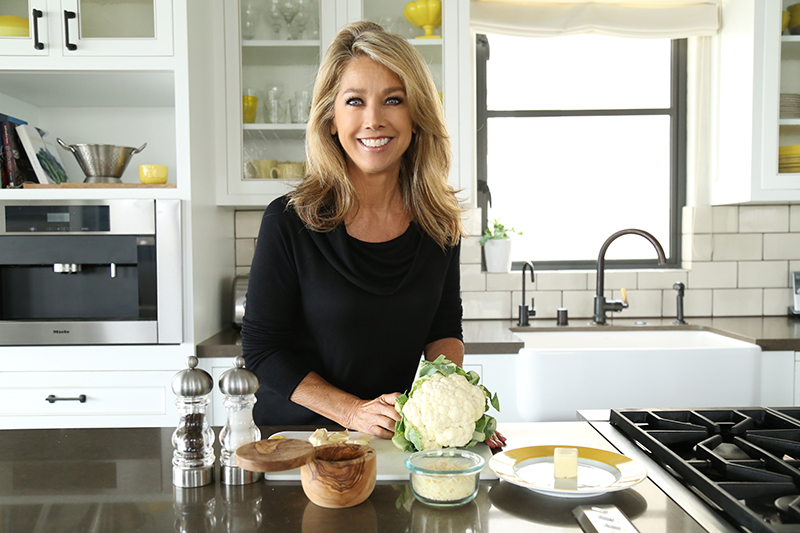 Happy Monday everyone!  Thanksgiving week is here!  What a wonderful time of the year filled with family, friends and…YUMMY FOOD!  The holidays can be a difficult time to stay on track with a healthy diet, but there are little things you can do to still stay on course.  I LOVE healthy food swaps!  They are a great way to replace the "traditional" dishes with healthier alternatives without taking away from the TASTE!  I want to share two of my favorite side dish swaps: Mashed Cauliflower and Healthy Green Bean Casserole.  Check out the recipes below!
Mashed Cauliflower – 20 Minutes Total Cooking Time
Servings: 4
What you'll need:
1 medium sized cauliflower head
1⁄2

tablespoon of olive oil

1

1⁄2 tablespoons of unsalted butter
3/4

teaspoon of salt

sprinkle of black pepper
3/4

teaspoon of crushed garlic

1⁄4

cup of Parmesan cheese (grated) [optional]

fresh chives, herbs, or green onions [optional]
Directions:
Cut cauliflower into small pieces.
Grab a microwave safe bowl and place a splash of water in it
Add cauliflower pieces
Microwave for 8 minutes or until soft (microwave times will vary)
Remove plate and smash and stir
Add in the other ingredients
Mix
Add garnish of fresh chives, herbs, or green onions [optional]
Serve and enjoy!
Healthy Green Bean Casserole – 1 Hour Total Cooking Time
Servings: 4
What you'll need:
11⁄4

cup of Greek yogurt (plain)

1 teaspoon of salt
sprinkle of black pepper
1⁄8

teaspoon of cayenne pepper

1⁄2 chopped yellow onion
1 pound of green beans (fresh)
11⁄2

tablespoon of garlic (crushed)

1⁄2

cup of almond flour

1⁄2

cup of Parmesan

1⁄4

of chopped fresh mushrooms [optional]

11⁄2

teaspoon of olive oil

3⁄4

cup of cheddar cheese (sharp or regular)

1⁄2 tablespoon of fresh parsley
Directions:
Preheat oven to 350 degrees F.
Mix almond flour with Parmesan, parsley and a sprinkle of black pepper
Separately, mix yogurt with salt, garlic and cayenne pepper
Heat olive oil in skillet
Add onion and salt
Cook until onions are brown
Make sure green beans are cut in half with ends cut off
Add green beans
Cook until soft
Add garlic and a little butter
Continue to stir
Add cheese
Stir cheese in until melted
Add yogurt mix
Grab a baking dish coat the dish with a little bit of olive oil
Add green beans mixture
Sprinkle topping
Place in oven for 35 minutes or until top is brown
Serve and enjoy!
Have a favorite Thanksgiving recipe?  I'd love to hear about it!  Share it in the comments.
Love always Your Personal Trainer,
Denise