Caribbean Jerk-Spiced Pork Chops with Mashed Sweet Potatoes-GF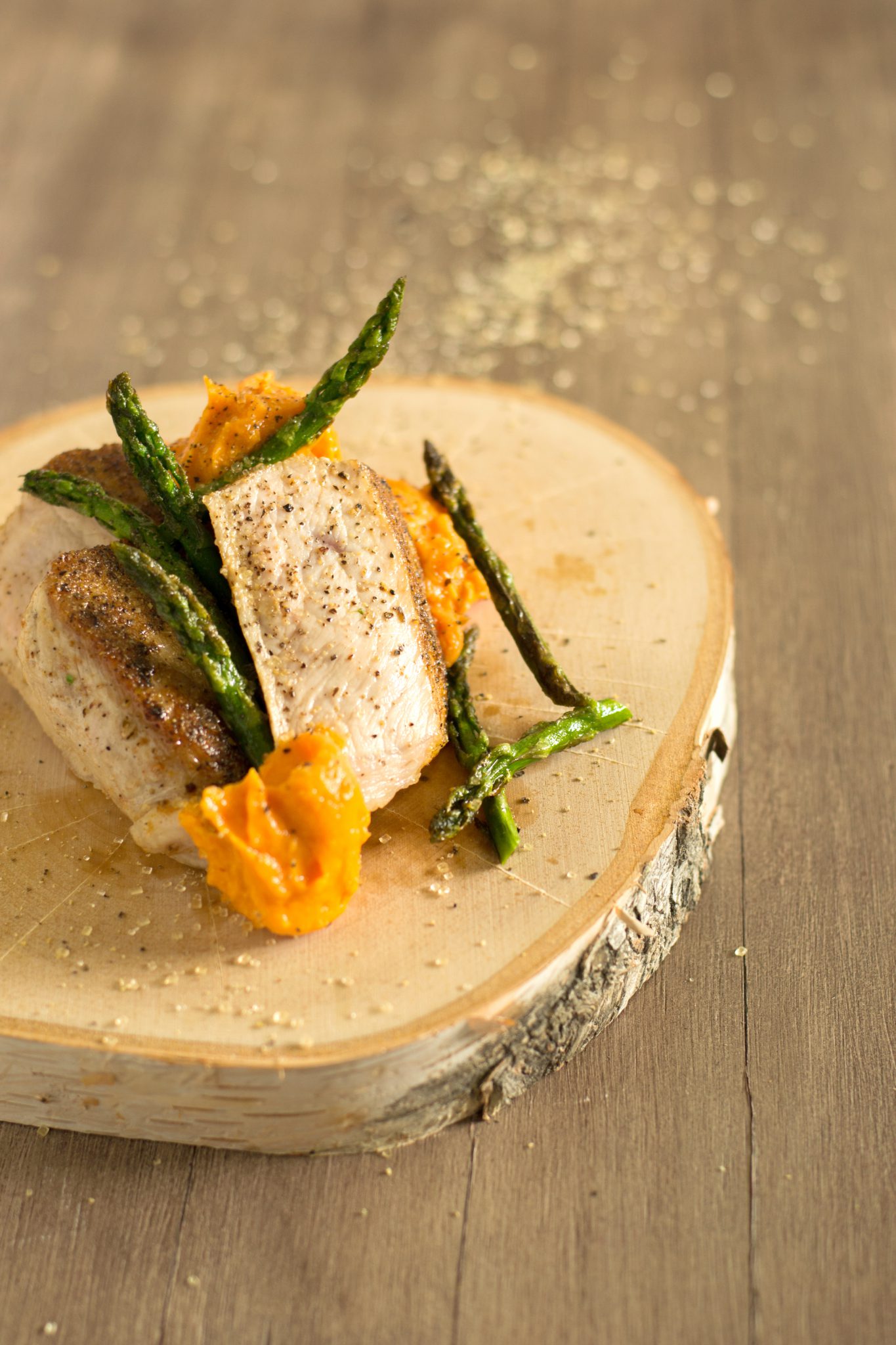 Restrictions
Diabetic, Gluten-Free, Lactose Free
Sweet and spicy pork chops are perfectly paired with mashed sweet potatoes, then served with a side of richly flavored roasted asparagus.
Ingredients
2 boneless center-cut pork loin chops (about 6 ounces each)
1 to 2 tsp. Caribbean jerk spice (or any seasoning blend; if following a gluten-free diet, check ingredients to ensure seasoning is gluten-free)
1 large sweet potato (about 1 lb.)
2 tsp. olive oil
2 tsp. butter
2 tsp. brown sugar (or honey or maple syrup)
1/4 tsp. cinnamon
1/8 tsp. salt
1 recipe Roasted Asparagus
Instructions
1. Rub the pork chops with the spice blend. Allow to marinate in the refrigerator for 30 minutes, up to several hours.
2. Preheat the oven to 400°F.
3. Pierce the potato a few times with a fork. Place on a baking sheet and bake for 45 minutes, or until flesh is soft when pierced with a fork. Cool until safe to handle.
4. Heat the oil in a medium skillet over medium-high heat.
5. Add the pork chops to the skillet and cook until the first side is golden brown, 2 to 3 minutes.
6. Turn the pork chops over, reduce the heat to medium-low, and cook until an internal thermometer registers 145°F, about 6 minutes.
7. Scoop the sweet potato flesh out of the skin into a medium bowl. Add the butter, brown sugar, cinnamon, and salt and mash thoroughly.
9. To serve, plate 1 pork chop with half the mashed sweet potatoes and half the Roasted Asparagus.
Nutritional Information
DietaryFiber:

7g

Sugar:

12g