Italian Stuffed Peppers with Sauteed Spinach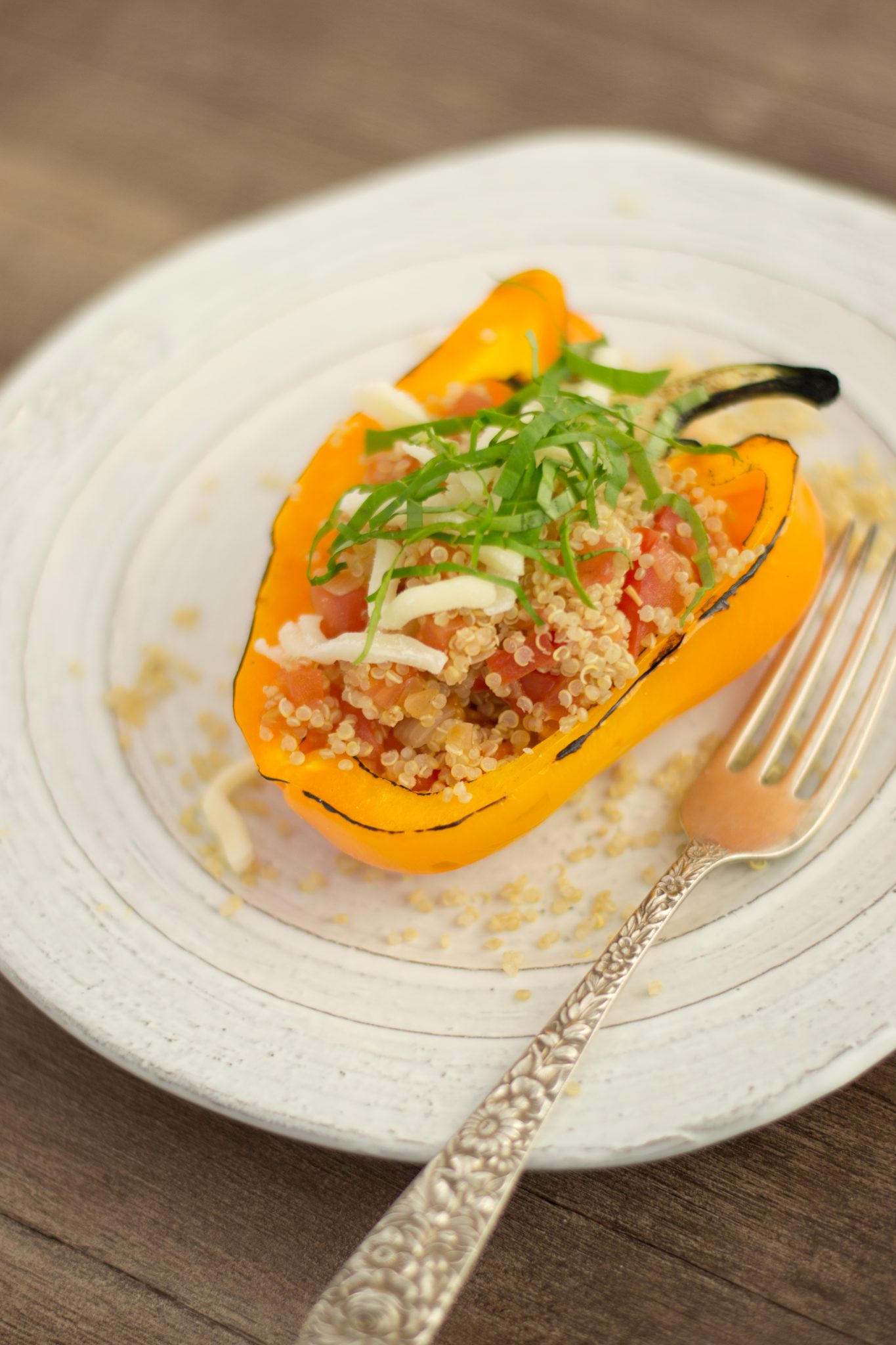 Restrictions
Vegetarian, Gluten-Free
Sweet bell peppers are halved then filled with brown rice or quinoa and herbs and spices and sprinkled with cheese, then baked and paired with sauteed spinach.
Ingredients
2 large red, yellow or orange bell peppers
3/8 tsp. black pepper, divided
3/8 tsp. salt, divided
2 Tbsp. olive oil, divided
1 small onion, diced
2 cloves garlic, minced
1 large tomato, diced
2 cups cooked brown rice (or quinoa)
2 Tbsp. grated romano (or parmesan) cheese
2 Tbsp. chopped fresh basil
1/2 cup shredded part-skim mozzarella cheese
6 oz. bag baby spinach leaves
2 cloves garlic, thinly sliced

Instructions
1. Preheat the oven to 400°F. Line a rimmed baking sheet with parchment paper or foil.
2. Cut the bell peppers in half lengthwise (through the stem) and carefully scoop out the seeds and inner membranes to form 4 pepper "cups".
3. Spray the pepper halves with oil spray on both sides. Sprinkle the insides with 1/8 tsp. black pepper and 1/8 tsp. salt. Arrange the peppers cut side down and bake for 20 minutes, or until peppers are soft and just starting to brown. Remove from oven and set aside.
4. Heat 1 Tbsp. oil in a large saucepan over medium heat. Add the onion and garlic and cook until the onion is soft and translucent, about 5 minutes.
5. Add the tomato, 1/8 tsp. black pepper, and 1/8 tsp. salt. Cook for 5 minutes.
6. Add the rice, romano cheese, and basil to the saucepan and mix well.
7. Turn the peppers halves over. Divide the rice mixture evenly between the 4 pepper halves. Sprinkle the cheese evenly over the 4 peppers.
8. Bake in 400°F oven for 10 minutes, or until warm and cheese is melted.
9. In a medium skillet, heat the remaining 1 Tbsp. oil over medium-high heat. Add the garlic and cook for 30 seconds. Add the spinach and sprinkle with 1/8 tsp. black pepper and 1/8 tsp. salt. Cook, stirring, until the spinach is wilted, about 3 minutes.
9. Serve 2 pepper halves on each plate with half the spinach.

Nutritional Information
DietaryFiber:

11g

Sugar:

13g