Lemony Chicken with Dilled Cucumber-Pea Salad-GF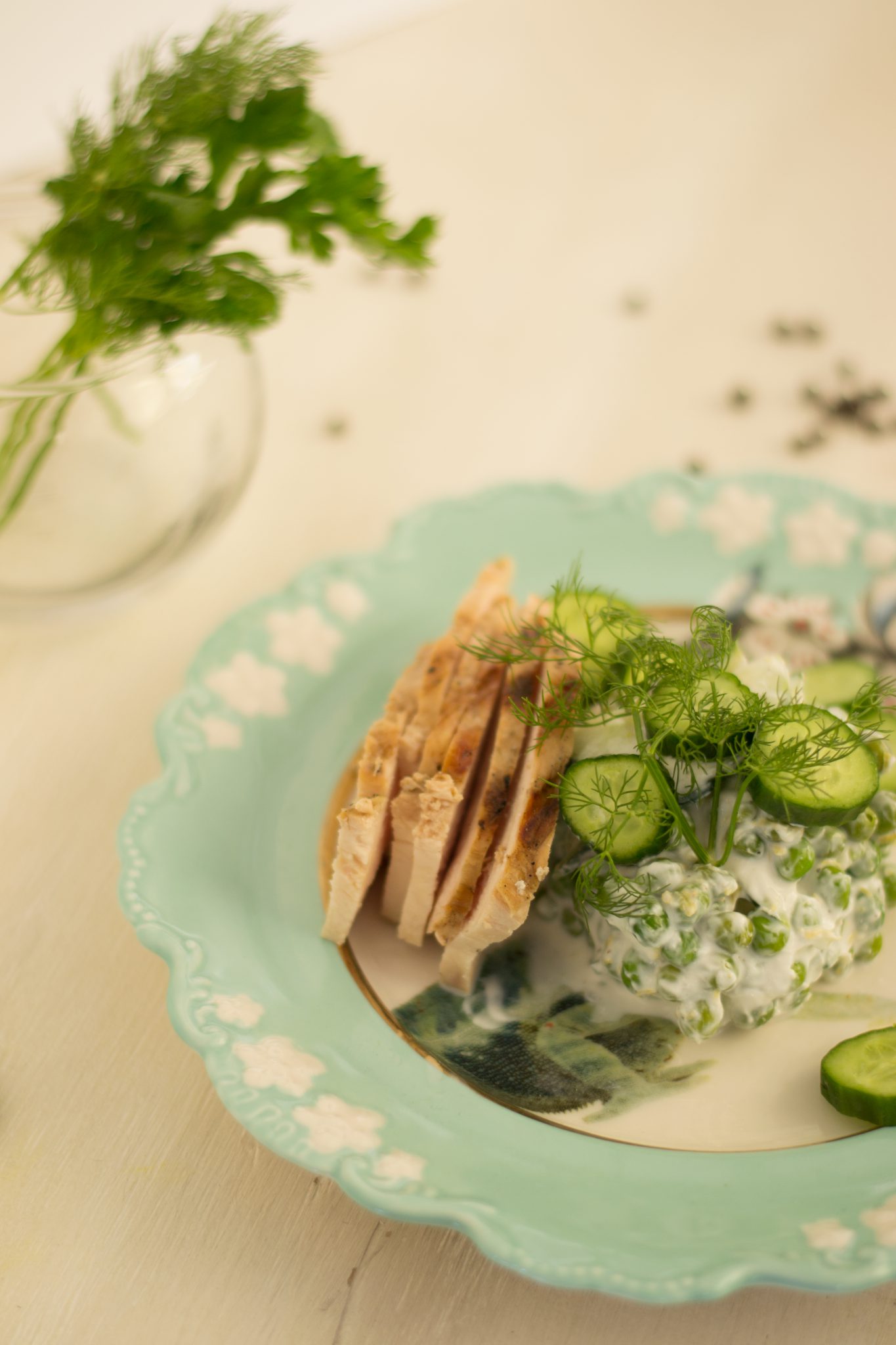 Zesty, buttery lemon sauce poured over breaded chicken breasts served with a creamy cucumber, pea salad.
Ingredients
2 small (6 oz) boneless skinless chicken breasts
1/4 tsp. salt, divided
1/2 tsp. black pepper, divided
1/4 cup gluten free flour like brown rice or millet flour
1 Tbsp. olive oil
1/4 cup gluten free chicken broth (low sodium if available)
1 Tbsp. lemon juice
1 Tbsp. chopped parsley
2 tsp. butter
1 cup peas, fresh or frozen and thawed
1 cup thinly sliced cucumber, cut into half moons (I like English cucumber)
1/4 cup non-fat Greek yogurt
2 Tbsp. chopped fresh dill or chives (or a mixture)
1/2 tsp. lemon zest (optional)

Instructions
1. Butterfly the chicken breasts and pound them until thin. Season the chicken breasts with 1/8 tsp. salt and 1/4 tsp. pepper.
2. Add the flour to a shallow dish. Lightly dust the chicken breasts with the flour.
3. In a large skillet, heat the oil over medium-high heat. Add the chicken to the skillet and cook 5 minutes per side, or until cooked through. Transfer the chicken to serving plates.
3. Add the broth and the lemon juice to the skillet and cook for 2 minutes, or until reduced by about half. Remove the skillet from the heat, add the parsley and butter, and stir until the butter melts. Season with black pepper to taste. Pour half of the sauce over each chicken breast.
4. In a medium bowl, combine the peas, cucumber, yogurt, dill or chives, lemon zest (if using), and remaining 1/8 tsp. salt and 1/4 tsp. pepper. Divide the salad evenly between the 2 plates.

Nutritional Information
DietaryFiber:

4g

Sugar:

6g